We at ZeemGO are excited to announce that the world's first electric bike has been paid for with a currency designed to be the standard of payment in the zero emission mobility sector in collaboration with Velca through the ZeemGO community. In fact, at the time of writing, a second one has already been sold! In addition, the sale included a 10% discount on the total price, which was paid with ZeemCoins.
This landmark sale marks the beginning of a collaboration that focuses on bringing sustainable mobility to a wider audience. Velca's electric bike, with its iconic and elegant styling, is a perfect example of the innovation that is taking the electric mobility industry to the next level.
Boosting sustainable mobility with Velca bikes
Together we contribute to a more sustainable future, so you know, you can accumulate ZeemCoins by evaluating charging points for electric vehicles and then redeem them for discounts on electric mobility products and services as is the example of Velca.
Through ZeemGO App you can try a Velca bike or scooter and, if you like it, you can buy it with a 10% discount.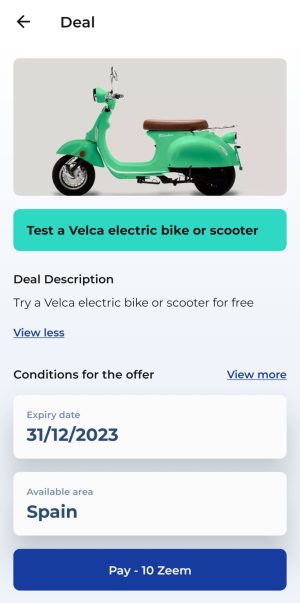 Now, with the sale of the Velca electric bike, we are taking the accessibility of electric mobility to a new level.
If you are interested in purchasing a Velca motorbike or electric bike, we invite you to download the ZeemGo App and access the 10% discount on your purchase, you can also contact us and we will help you with whatever you need.
Join us in our mission to drive sustainable mobility and innovation in the electric mobility industry.
Together we can make the mobility of the future more sustainable!